Delacorte Theater Revitalization

To stay up to date with the latest news on the revitalization and learn about opportunities to support, click the email sign-up button above. If you have any questions about the project, please contact [email protected].

To view a list of Capital Campaign donors, click here.
REVITALIZING THE DELACORTE.
The Public Theater, in partnership with the Central Park Conservancy, NYC Parks, and the New York City department of Cultural Affairs, is embarking on a much-needed revitalization of the 61-year old Delacorte Theater in Central Park. The plan — a major investment in outdoor cultural space as part of New York's economic recovery — will dramatically improve the home of Free Shakespeare in the Park, addressing critical infrastructure, accessibility, and theatrical needs. The plans were unanimously approved by the Landmarks Preservation Committee on January 25, 2022. A preconstruction phase of the renovation began in the fall of 2022, and is focused on an interior renovation of the production shed and a replacement of the stage floor. The renovation will officially begin in the fall of 2023.
The project is being funded privately and publicly, with $41 million contributed by the New York City Mayor, City Council, and Manhattan Borough President, as well as $1 million from New York Assembly Member O'Donnell.
For further information about the project and how to support, contact:
Kristina Hoge
Senior Director, Development
[email protected]

A NOTE FROM LEADERSHIP.
The Delacorte Theater in Central Park is the very embodiment of The Public's vision—a place where artistic expression belongs to everyone, and everyone belongs. It has been home to Free Shakespeare in the Park for more than half a century, and in that time has staged hundreds of productions for millions of people.
One of New York City's most beloved cultural traditions, Free Shakespeare in the Park puts the best actors of our time in the most celebrated plays, presented not as high art for the few but as the birthright of all people. Since its inception, The Delacorte has served as a meeting place for strangers and neighbors to gather under the stars and let us share stories in exchange not for money, but for the collective laughter and gasps and tears and joy of our audiences.
Now, it is time for us to ensure that our beloved Delacorte will continue to be a home for artists and audiences for generations to come. This 18-month renovation will create a Delacorte that is more accessible, more sustainable, more able to create extraordinary theater, and more a palace for the people of this city than ever before.
When we gather together in summer 2025, it will be at a magnificent, refreshed Delacorte Theater built by and for the people of New York, to be treasured as our shared home for Free Shakespeare in the Park for generations to come. We look forward to sharing it with you all.
With deep thanks to our supporters and Public family,
Oskar Eustis                      Patrick Willingham
ARTISTIC DIRECTOR        EXECUTIVE DIRECTOR
WHAT WE PLAN TO DO.
The key proposed design includes:
Accessible and comfortable space for audiences and artists living with disabilities: Built before many of the modern accessibility codes, the existing Delacorte possesses only one access point for people living with disabilities and only one row of seating in the front row on house right. The design will maximize accessibility by bringing the entire theater in line with current code – making two gates accessible for people who use wheelchairs, adding stage accessibility interventions to make the stage accessible for artists with disabilities, and creating an accessible cross aisle to provide people who use wheelchairs a more equitable experience of attending performances at The Delacorte.  

Streamlined backstage operations and improved comfort for cast and crew: The new design improves inefficiencies across the theater which will decrease time needed for load in, load out and change between productions. Back-of-house investments are also aimed at improving the staff and artist experience, with purpose-built dressing rooms, bigger hallways, and climate control for enclosed spaces.  

Revitalized exterior for a more dynamic aesthetic experience: The theater's exterior wall will be canted slightly outward to give The Delacorte a dynamic presence and movement. The textured wood façade plays with light and shadow, complementing the natural setting of trees and overhead foliage. The new covered canopy and widened bluestone pathway will welcome visitors, provide more generous circulation, and increased shelter from rain and sun.  

A focus on resilience and sustainability: The existing decking has sustained significant damage that has caused numerous points of rebuild for each season. As weather fluctuates more wildly and storms get more unpredictable, that level of constant repair is only expected to grow unless serious investments are made. The design contemplates the use of products that have been approved by NYC Parks and used throughout that are more durable and sustainable with the changing elements; improved drainage around the site will help plan for storms of greater strength and unpredictability.  

Lighting improvements: Newly designed lighting towers will provide improved lighting for the stage and performances, adding to the overall theatrical experience and ambiance. The new towers will also include additional safety features for crew members and increase efficiency for load in and load out of shows. 

Improved sprinkler and fire alarm systems 

Improved exterior and interior signage and wayfinding 
WHERE WE'VE BEEN.
With over six decades of operation, including the recent staging of the widely-acclaimed performances of Merry Wives, Much Ado About Nothing, Public Works' Hercules, Twelfth Night, and Public Works' As You Like It, and more than five million tickets distributed, Free Shakespeare in the Park is one of New York City's most iconic cultural experiences.  
However, the theater has outlasted its current facility in almost every measurable way. The renovation of The Delacorte is not optional: the deteriorating structure is in dire need of rebuilding to provide upgraded and more comfortable conditions for staff, artists, and audiences alike. It lacks modern back-of-house theatrical operations and does not ensure equitable access for those living with disabilities.
We first announced plans to renovate in 2018, and since then, have toured hundreds of people through the theater including local residents, community board members, supporters of The Public, volunteer Central Park gardeners, historic preservation groups, public school teachers, teaching artists, and others to share the current state of the facility and the goals of the proposed project. 
Over the last several years, we've worked with park stakeholders and design experts to arrive at a plan which will take great care to protect Central Park — a backdrop that inspires its actors and captivates its audiences.
WHERE WE'RE GOING.
Built in 1962, the theater has not undergone meaningful capital upgrades since 1999. The design comprehensively addresses the theater's outstanding code and life safety needs, makes core improvements to infrastructure and backstage efficiency, and makes meaningful upgrades to support its theatrical program. The design is also contextual and maintains The Delacorte's current form, footprint, and views within the park while protecting the sanctity of the theater in the park experience.  
The project has prioritized diverse hiring as it invests in New York's cultural infrastructure post-pandemic. It has committed to exceeding the City and State's minimum requirements for contracting Minority and Women-owned Business Enterprises and Locally-based Business Enterprises (MWBEs and LBEs), including at least 40% MWBE/LBE subcontracting and 30% construction participation from underserved communities, in keeping with The Public's anti-racism and cultural transformation plan. 
"There were moments over the past year where we didn't know what New York's cultural future would look like. It is such a joy and a relief to know that The Delacorte, which has played such a central role in not just my experience of theater in New York over the years, but the experiences of literally millions of people - is being revitalized for the future. Now is the time to look forward to the reinvestment in our cultural community, to a vibrant and diverse new era of theatrical excellence. As we reach and seek to understand each other better through our art, we also seek to better nurture the place in which we gather. I am full of hope."
Kenny Leon, Theater & Film Director, Public Theater Board Member

ABOUT THE DELACORTE.
Conceived by founder Joseph Papp as a way to make great theater accessible to all, The Delacorte Theater officially opened in Central Park on June 18, 1962, with The Merchant of Venice, directed by Papp and Gladys Vaughan and featuring George C. Scott as Shylock. The Merchant of Venice was followed that summer by a production of The Tempest, directed by Gerald Freedman and featuring Paul Stevens as Prospero and James Earl Jones as Caliban. The first Delacorte summer season concluded with King Lear, directed by Papp and Vaughan and featuring Frank Silvera as Lear.  Since then more than 150 productions have been presented for free at The Delacorte Theater in Central Park. Highlights of past Delacorte productions include Othello in 1964 with James Earl Jones; Hamlet in 1975 with Sam Waterston; The Taming of the Shrew in 1978 with Raul Julia and Meryl Streep; The Pirates of Penzance in 1980 with Kevin Kline and Linda Ronstadt; Henry V in 1984 with Kevin Kline; Much Ado About Nothing in 1988 with Kevin Kline and Blythe Danner; Richard III in 1990 with Denzel Washington; Othello in 1991 with Raul Julia and Christopher Walken; The Tempest in 1995 with Patrick Stewart; The Seagull in 2001 with Natalie Portman, Meryl Streep, Kevin Kline, and Philip Seymour Hoffman; Mother Courage in 2006 with Meryl Streep and Kevin Kline; Macbeth in 2006 with Liev Schreiber; HAIR in 2008 with Jonathan Groff and Will Swenson; Twelfth Night in 2009 with Anne Hathaway; The Merchant of Venice in 2010 with Al Pacino and Lily Rabe; Stephen Sondheim's Into The Woods in 2012 with Amy Adams, Denis O'Hare, and Donna Murphy; The Comedy of Errors in 2013 with Jesse Tyler Ferguson and Hamish Linklater; Alex Timbers and Michael Friedman's musical adaptation of Love's Labour's Lost in 2013; King Lear in 2014 with John Lithgow as Lear; The Tempest in 2015 with Sam Waterston; an all-female Taming of the Shrew in 2016 with Janet McTeer; Julius Caesar directed by Oskar Eustis and A Midsummer Night's Dream with Phylicia Rashad in 2017; Chukwudi Iwuji and Corey Stoll appeared in Ruben Santiago-Hudson's Othello in 2018; Danielle Brooks appeared in a production of Much Ado About Nothing, directed by Kenny Leon in 2019; Merry Wives in 2021, directed by Saheem Ali and adapted by Jocelyn Bioh; a Robert O'Hara-directed Richard III with Danai Gurira and Public Works' As You Like It extended five-week run in 2022; and most recently, nine weeks of Hamlet, directed by Kenny Leon.
ABOUT ENNEAD ARCHITECTS.
We are thrilled to work with our longtime partner once again, Ennead Architects. 
Ennead oversaw the revitalization of the facade and public spaces at our flagship location on Lafayette Street in 2012 and the recent renovation of the Rehearsal Annex. Ennead has led many other marquee cultural revitalization projects in New York, including the Brooklyn Museum entry pavilion and plaza, Jazz at Lincoln Center, Symphony Space, Zankel Hall at Carnegie Hall, and the Rose Center for Earth and Space at the American Museum of Natural History. This continued relationship is based on shared commitments to creating spaces that center radical welcome and equity.
"We are proud to continue our work with The Public Theater in the re-envisioning of one of New York's most prized cultural experiences. The design of the revitalized Delacorte will complement the natural surroundings of Central Park by providing a more welcoming, comfortable, and accessible experience for visitors and performers alike, and improving the Public's ability to continue showcasing revered works of art in one of New York City's most prominent destinations."
Stephen P-D Chu AIA, Principal at Ennead Architects

WORDS OF SUPPORT.
"In a time when performing arts organizations were unable to produce indoors, The Delacorte led the way in the return to live performance. Investing in The Delacorte means we are investing in the future of this industry and strengthening outdoor performing arts. This investment in one of the city's public treasures will exceed City minority involvement benchmarks in the construction process, in line with The Public's anti-racism and cultural transformation plan." 
Luis A. Miranda Jr., Public Theater Board Chair 
"As our city's cultural institutions rebound from their most challenging year on record, these crucial improvements to The Delacorte signify that New York is back and ready to meaningfully invest in our culturals once again. After nearly sixty years of providing free Shakespeare and performance art to countless residents and visitors to our city, this design will renew The Delacorte's promise of delivering free artistic brilliance to diverse audiences for decades to come." 
Arielle Tepper, Public Theater Board Member and Former Chair
"The Delacorte has always been a palace for the people, where the greatest plays, produced and performed by brilliant American artists are offered up free of charge. The Delacorte embodies the idea that culture belongs to everyone. Now, this iconic theater will not only be revitalized for the next generation of theater-goers, but in the process, will be made more accessible to artists and audiences alike: when we are done, more jobs will be accessible both in front of house and in back regardless of disability status. Returning from the pandemic, we are recommitting to a fiercely democratic theater that belongs to all the people." 
Oskar Eustis, Artistic Director of The Public Theater
"The Public Theater has always been about serving the people by delivering world class productions at no cost. This design allows us to further that mission by expanding access and bolstering Free Shakespeare in the Park's home to better brave the elements and stand the test of time. Central Park is hallowed ground for millions of New Yorkers. This institution is one that is truly in and of the city and we look forward to serving our friends, neighbors, and visitors for generations ahead." 
Patrick Willingham, Executive Director of The Public Theater
"The Public Theater produces some of New York City's most extraordinary free outdoor theatre. These necessary investments will improve The Delacorte by bringing its facilities into the 21st century and make it more accessible. Investing in our City's cultural institutions is integral to the City's Recovery for All. In close partnership with The Public Theater, the City is committed to supporting the historic Delacorte, so the theater remains an inclusive hub of arts and culture for generations to come." 
Vicki Been, Deputy Mayor for Housing and Economic Development
"The Delacorte Theater is one of our city's most treasured cultural spaces and this renovation marks a revitalization of the performing arts after the pandemic has profoundly impacted many cultural activities. The past year and a half has reminded us of the necessity of our city's cultural spaces and venues. Nothing quite compares to the experience of Free Shakespeare in the Park in Central Park. This new vision will make The Delacorte more accessible, equitable and sustainable for many more years to come." 
Corey Johnson, Council Speaker
"The Delacorte Theater is home to Central Park's rich history in public space, architecture, and the performing arts. It has embraced free performances for over half a century. This concerted effort to renovate the theater will speak volumes of the importance of cultural preservation. The emphasis on programmatic and structural sustainability, through the use of durable and changing elements, will set a strong precedent for future projects. Furthermore, the theater's commitment to equity by introducing ADA compliancy will provide accessibility for all New Yorkers."
Gale A. Brewer, Manhattan Borough President
"For decades, The Delacorte Theater and Free Shakespeare in the Park have been an integral part of our cultural landscape, helping New York City to become the arts capital of the world. The arts will play a critical role in our state's recovery from this pandemic, and as the representative for Central Park and The Delacorte Theater, I look forward to the theater's renovation with an eye toward sustainability, accessibility, and its important mission of inclusivity for audiences citywide." 
José M. Serrano, State Senator
"The Delacorte Theater is a community treasure, and I'm proud of our State's investment in its renovation. I still remember seeing my first Shakespeare in the Park production nearly 40 years ago – I drove up from Washington, DC with my now husband because I knew even then that The Public Theater's productions are unrivaled. Everyone deserves that same opportunity to experience world class arts. With facilities that are more accessible to patrons and stagehands alike, the new Delacorte Theater will serve the next generation of New Yorkers for years to come." 
Daniel J. O'Donnell, Chair of the Committee on Tourism, Parks, Arts and Sports Development Committee
"We are looking forward to the iconic Delacorte Theater's long-awaited renovation and to the greater access and inclusion it will provide for people with disabilities on and off the stage. These improvements will benefit everyone with disabilities in the theater community – audience members, actors and people working behind the scenes."
Victor Calise, Commissioner of the NYC Mayor's Office for People with Disabilities (MOPD)
"For more than half a century, The Delacorte Theater has been a cornerstone of summer in Central Park and a vital part of our city's cultural landscape. Thanks to The Public Theater's vision and significant funding from Mayor de Blasio and elected officials, this redesign will completely modernize the venue with a focus on diversity, sustainability, and access, ensuring that Free Shakespeare in the Park continues to connect all New Yorkers with free outdoor theater for generations to come."
Gabrielle Fialkoff, NYC Parks Commissioner
"The Delacorte is the people's theater, beloved by so many New Yorkers as a singular space we gather for the joy and excitement of experiencing live theater together. It's also been badly in need of an upgrade for far too long. We're proud to invest in The Public's vision for a new Delacorte, one that is more open, accessible, safe, and sustainable, and will serve as a stage for artists and audiences to connect for generations to come."
Gonzalo Casals, NYC Cultural Affairs Commissioner
"The Central Park Conservancy enthusiastically supports The Public Theater's plans to improve the facilities and overall accessibility at The Delacorte Theater so that more people can enjoy world-class performances under the stars in Central Park. We look forward to working with them to facilitate this much-needed renovation."
Betsy Smith, President and CEO of Central Park Conservancy
"I am thrilled to have The Public Theater in my district and appreciate their contributions to the cultural life of the city, both downtown and through their outstanding work in The Delacorte Theater in Central Park. The Delacorte is beloved by New Yorkers and I am heartened to see that The Public Theater intends to engage with community members as they move forward with plans to renovate the theater and create greater accessibility to audiences, performers, and stage crews. The arts are essential to New York City, and I applaud The Public Theater for continuing to provide high-quality theatrical performances to a wide range of audiences, especially as we emerge from the pandemic."
Deborah J. Glick, Assemblymember District 66

"Performing in MUCH ADO at The Delacorte in 2018 was such a delight. It was a joy to spend concentrated time with Black artists, celebrating Black excellence. That in so many ways is at the heart of the way I think of The Delacorte — as a stage for the New York I know and love. I expect many artists, and hopefully audiences, feel the same. There could be no better time than now to create a comfortable and safe space where voices that have spent too much time unheard can flourish — and all can participate in the triumphant return of great theater."
Danielle Brooks, Actor
"We live in a great city, one defined by diverse voices, by the creativity and joy of people from across the globe. The Delacorte sits not just at its geographical center, but its spiritual center as well — a place that fosters radical welcome and celebrates excellence in all its forms. We have an obligation to protect a place like that; where art is celebrated in the open air, where we come together, for free, to enjoy the transporting and communal power of theater. I am grateful to The Public for protecting the legacy of this place, making it more welcoming and accessible for future generations." 
Andre Braugher, Actor
"The revitalization of The Delacorte is great news for the future of culture in New York. It is an economic investment in all the best things: in equitable participation in and enjoyment of culture; in the celebration of diverse stories and excellence in all its forms; in the natural world, and the way that New Yorkers most readily experience it in Central Park; in jobs that are comfortable and safe, and in the cultural future of our city after a long period of deep uncertainty. I am deeply grateful to The Public Theater for its continued commitment to this important place, and look forward to many more wonderful years."
Lily Rabe, Actor
"The Public Theater is in many ways the heart of New York City. The Public is the home where our large, diverse, and vibrant community can come together to share stories and culture, dreams and aspirations. Over several years, through Public Works, DreamYard community members, educators, and artists have brought their voices to The Delacorte stage to invite our city to celebrate the power of our glorious diversity. We live in a time where The Public Theater is needed more than ever. Through theater and the arts we build a pathway to the highest potential of the human spirit — the renovation at The Delacorte Theater will be the space where we will imagine our best selves for generations to come.
Jason Duchin, Co-Executive Director of DreamYard and Public Works Partner
"Since 2010, The Fortune Society has had an evolving and rewarding relationship with The Public Theater's Public Works program which includes dozens of our men and women appearing in a classical play each summer presented at The Delacorte Theater. It is difficult to measure the vast impact on our men and women participating in The Public Theater programs. From personal experience, I see, up-close, people who have been marginalized and/or overlooked gaining the excitement of participating in such a creative venture. There is nothing more wondrous, more reflective of the magic of NYC, than an evening under the stars at The Delacorte. It is what I imagine Heaven is like."
David Rothenberg, Founder of the Fortune Society and Public Works Partner
Renderings by Ennead Architects
MEDIA.
Delacorte Revitalization Images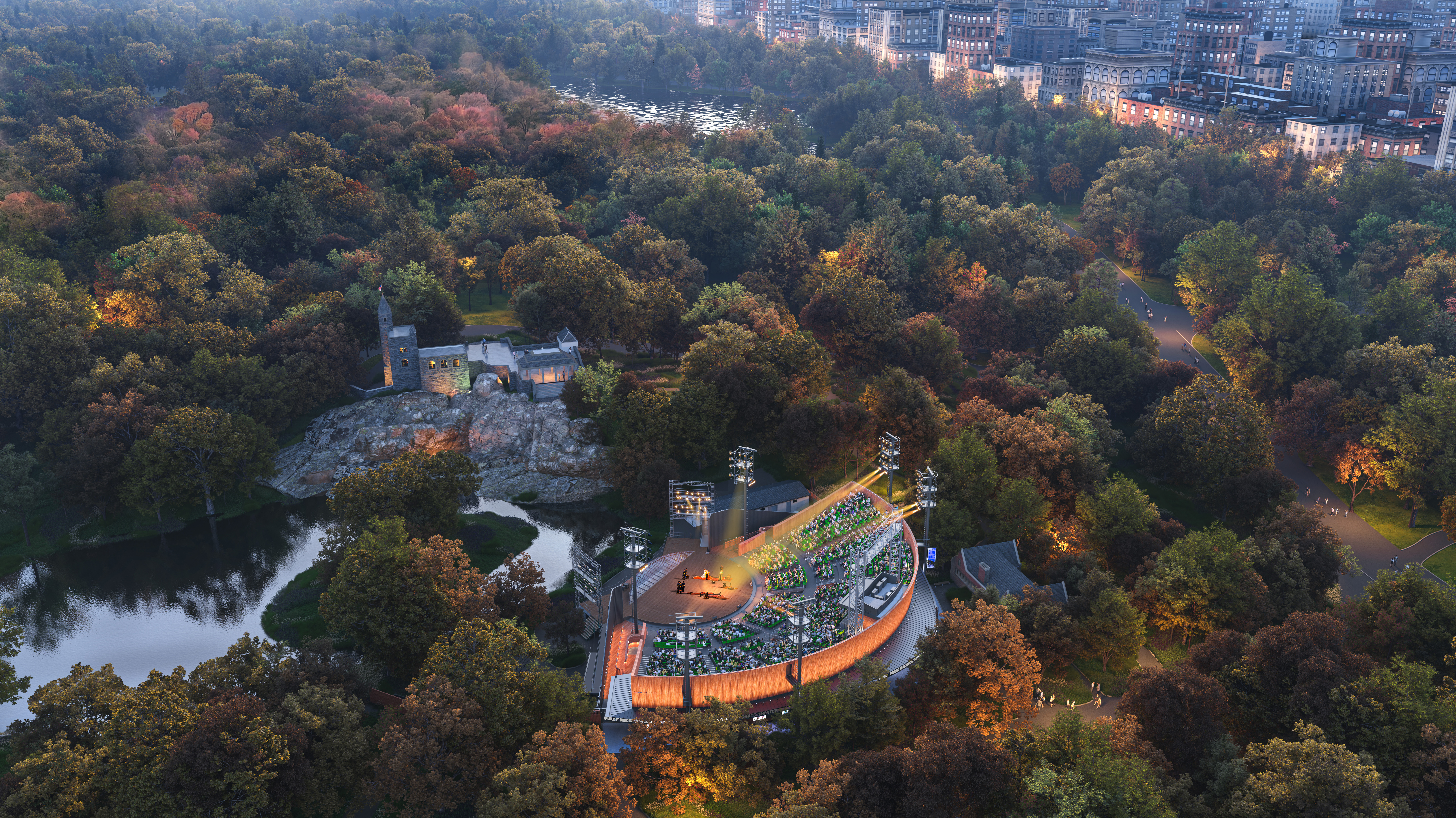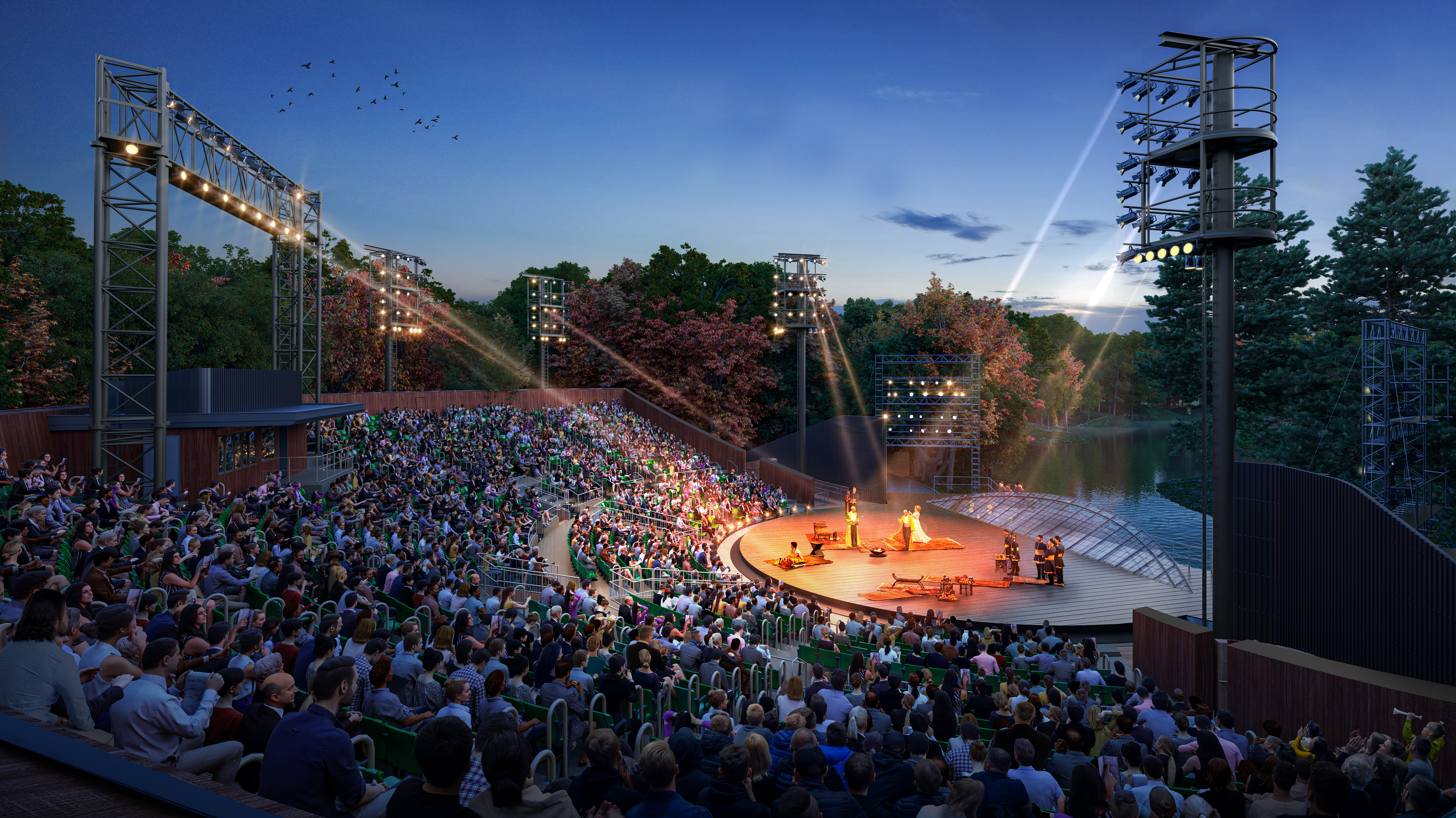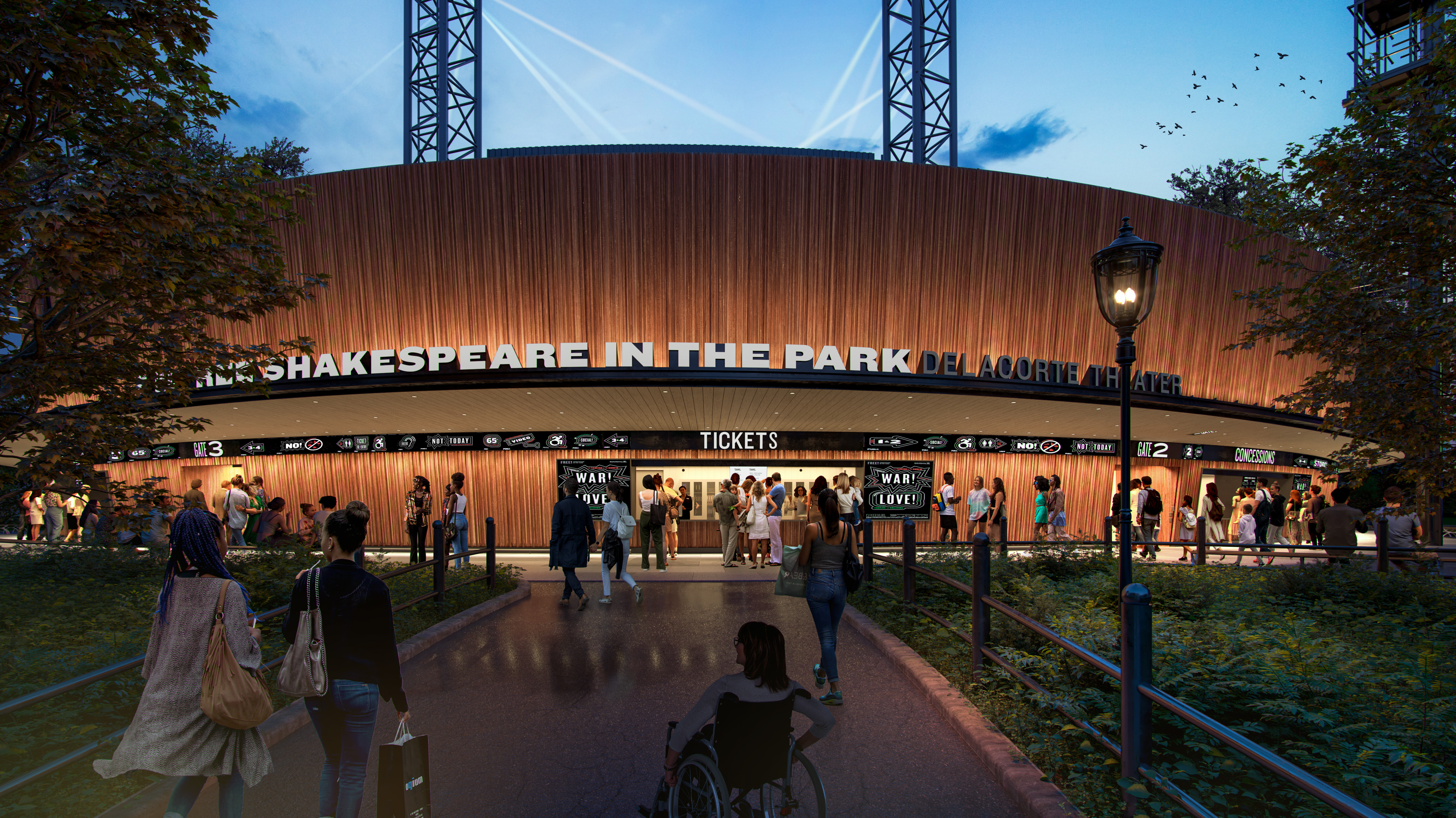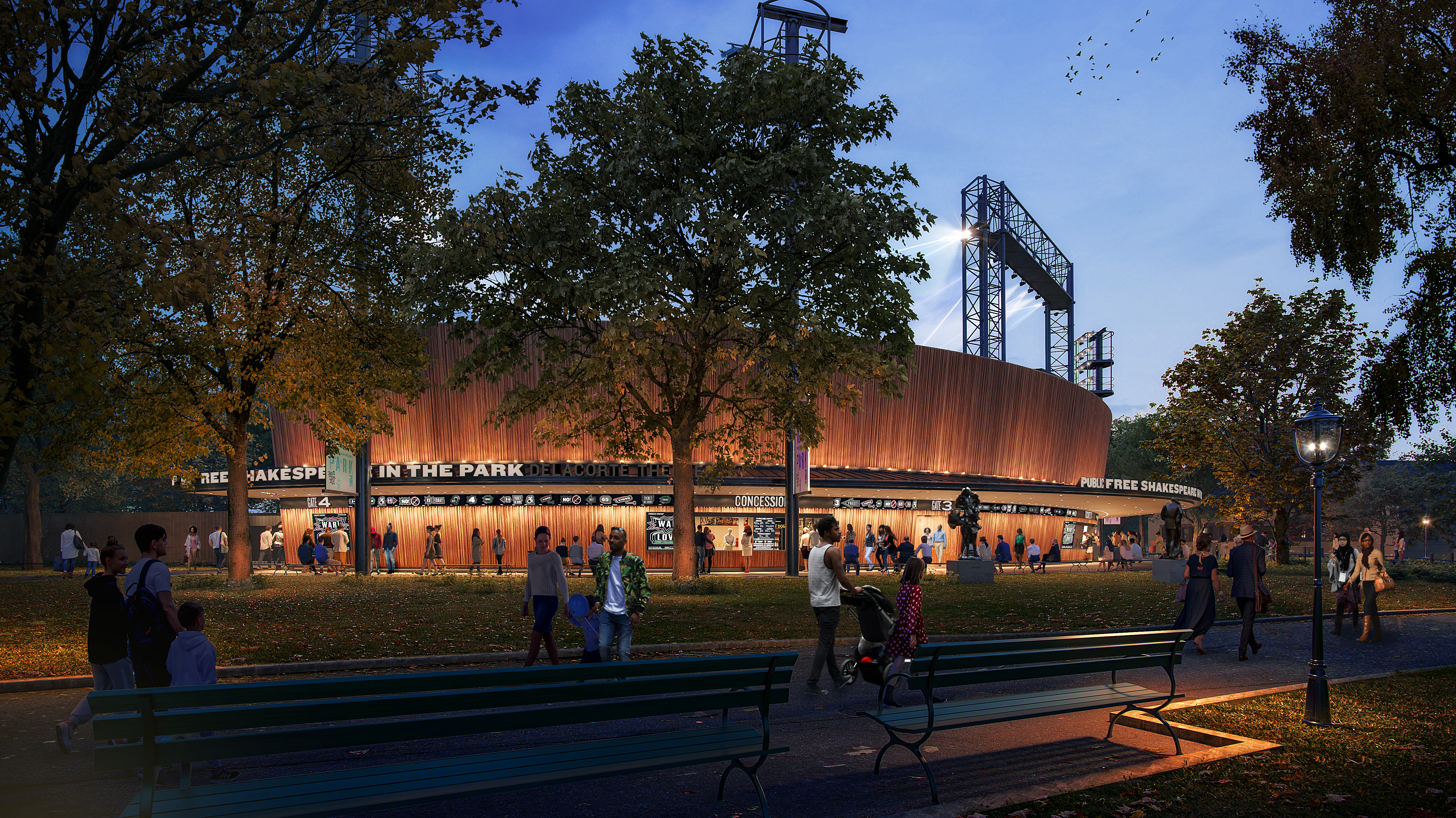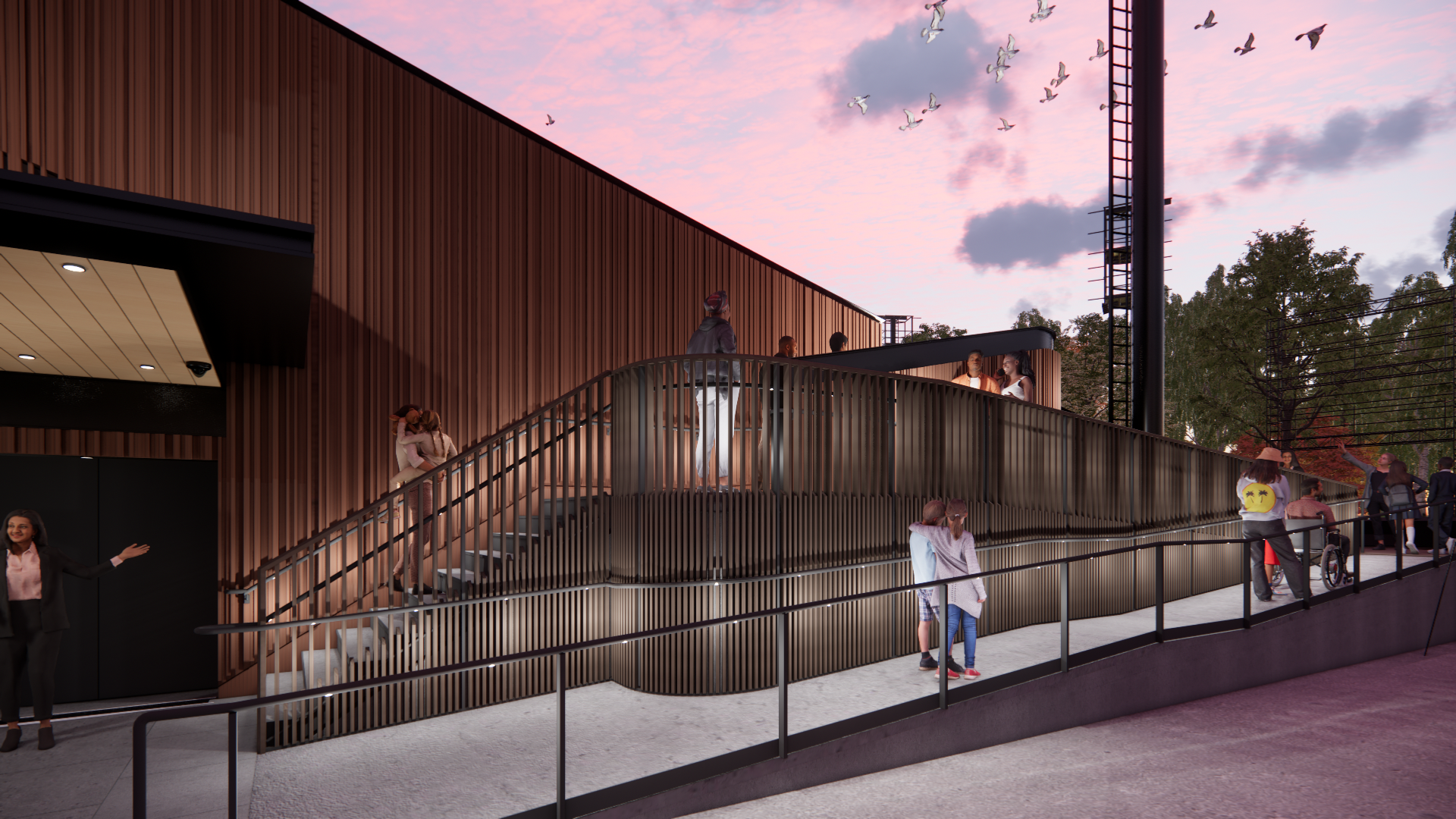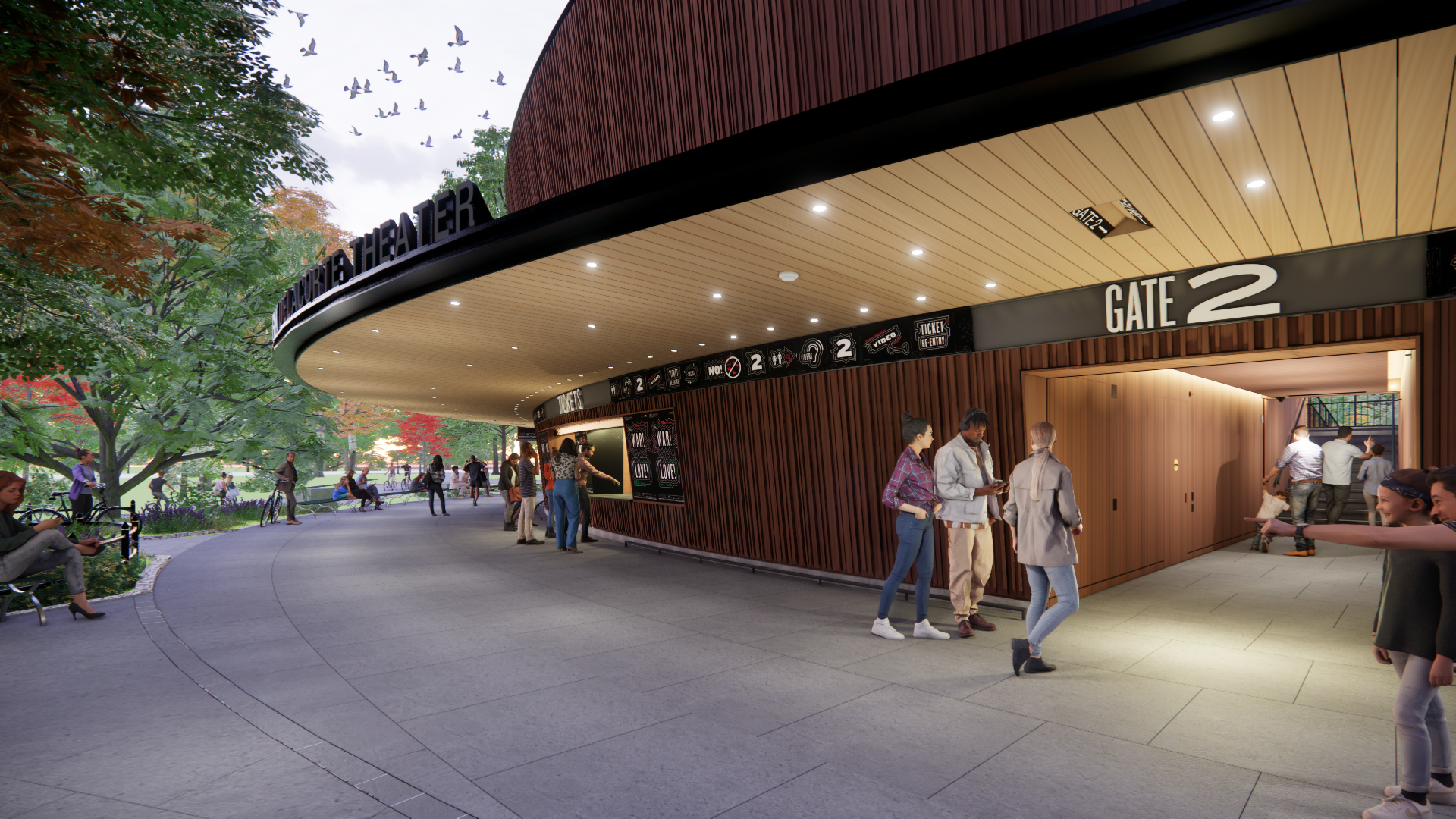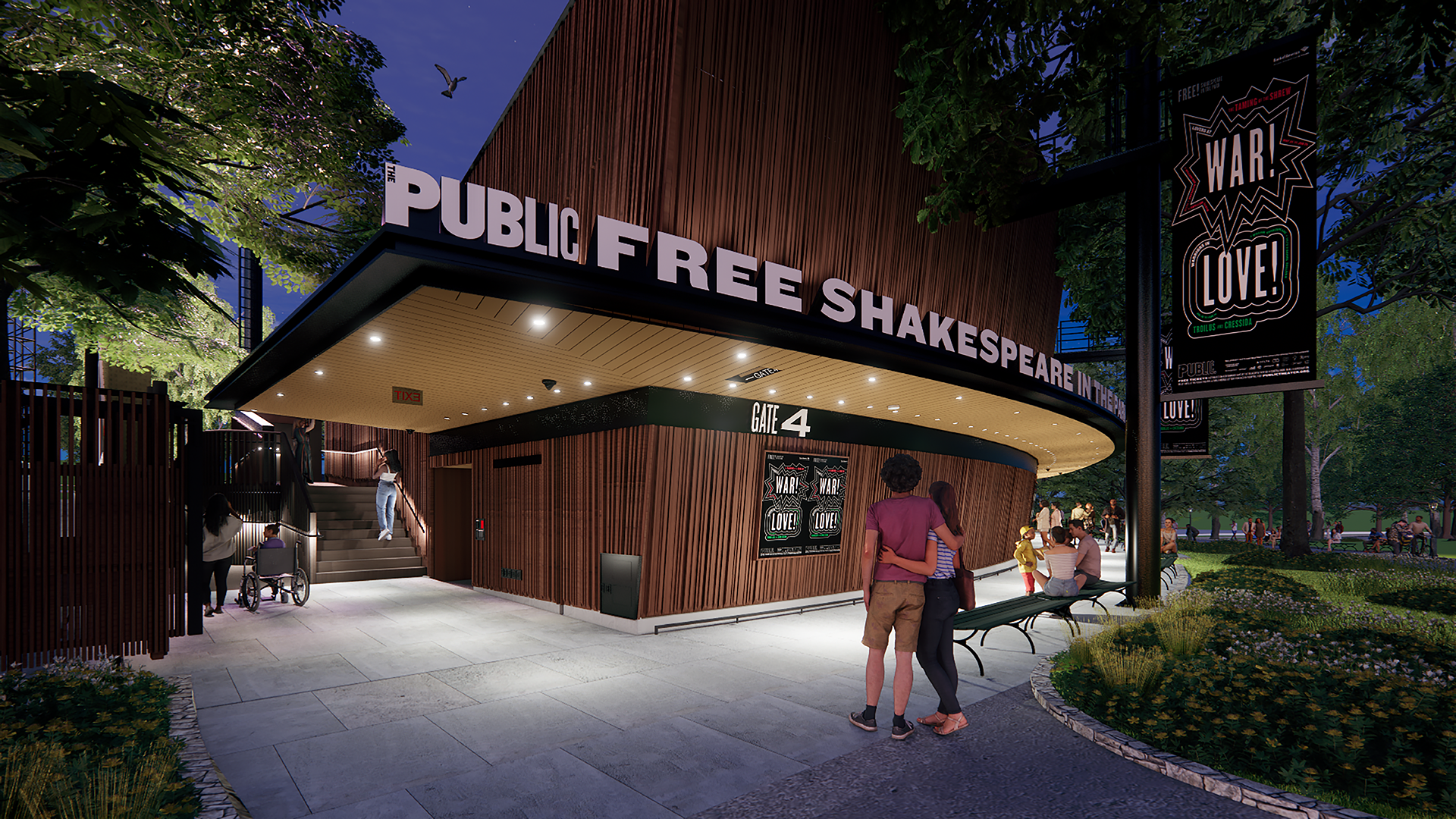 "Where would we be without The Delacorte, where, at the center of its heart, Central Park, in the midst of its woods and meadows, all the people of this city made of concrete and steel can come together and find what the theater and nature have to say about what it means to be alive? This magical stroke of genius is over 60 years old and needs reinvigoration, preservation, renovation, the way 60-year-olds very commonly do. It's so important and so very much within our reach. I'm asking and inviting you, just please, let's do it. Your kids and grandkids and all the coming generations thank you for your help and will be so very delighted at the result — easier access for everyone, resilience in a changing climate, a great experience made young again. Let's." (2021)
Sam Waterston, Actor and Public Theater Board Member