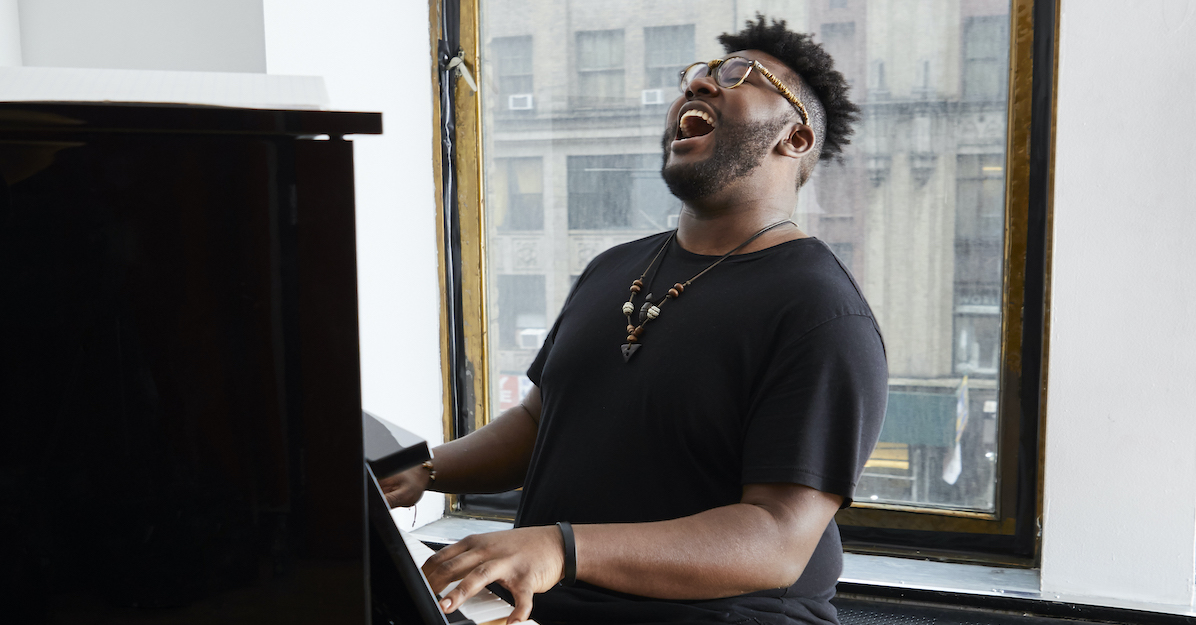 Nona Hendryx / Tariq Al-Sabir - YoungArts at Joe's Pub Live!
Nona Hendryx / Tariq Al-Sabir - YoungArts at Joe's Pub Live!
Joe's Pub YouTube Channel or Here on the Public Theater Website
December 15, 2020
While Joe's Pub is temporarily closed to public access, join us for Joe's Pub Live! – a free series of streamed performances from artists' HQ and our iconic stage in New York City. Facilitating social connectivity during this time of physical distancing, Joe's Pub remains dedicated to supporting performing artists at every stage of their careers through sharing concerts with our audiences each week.

Chat with Joe's Pub, your fellow audience members, and the artists themselves via our YouTube channel during the premiere!

Join us for the inaugural performance of YoungArts at Joe's Pub Live! This series features performances from YoungArts' spectacular roster of alumni, who have also cultivated deep roots with Joe's Pub (through our artist development programs). First up: Tariq Al-Sabir in a double bill with Joe's Pub's inaugural Vanguard Award & Residency recipient— Nona Hendryx.

Composer, Vocalist, Music Director and Producer Tariq Al-Sabir has been described as a "boundless talent" by Baltimore's City Hall and The Examiner deemed him "a rising musical mastermind." A performer and writer with a command over many styles including classical, gospel, jazz, pop, and musical theater, his early passion for music was supported by The Peabody Institute of The Johns Hopkins University with a full scholarship for composition lessons that started while he was in middle school and maintained through his high schooling at the Baltimore School for the Arts. In 2006, Tariq's first job was lending his voice as a lead vocalist to the season 4 theme song for HBO's "The Wire."

Now an esteemed alumnus of Peabody, Tariq is frequently engaged as a performer and composer in NYC where he is now based. His experience ranges from jingle writing, film scoring, and music production, to premiering a role in the world premier of the Smithsonian Commissioned operetta Qadar. His abilities remain unrestricted while he displays expertise at each performance. He was interviewed and featured on Al Jazeera for his innovative work that creatively and seamlessly challenges genre separation. In 2016, Tariq was invited to be a performer and speaker at TEDxMidatlantic, focusing on his experiences and projects with music, justice, and music education for children of color.

In 2017, he premiered commissioned works at The Lincoln Center, National Sawdust, and Joe's Pub. He collaborated with Kambui Olujimi and the Lone Wolf Recital Corps at MoMA in short film and live performance for the exhibition Projects 107: Lone Wolf Recital Corps. He nationally and internationally premiered the roles of Richard Moss and Travis Douglass in Octavia E. Butler's Parable of the Sower, an opera by Toshi Reagon and Bernice Johnson Reagon.

In 2018 Tariq was selected to be a member of the inaugural SUITE/Space Artist residency with the legendary Mabou Mines Theater Company, where he conceived and presented a workshop version of his theatrical-multimedia song cycle #UNWANTED in their new theater at Performance Space 122.

Tariq served as music director for the Off-Broadway run of Black Light at the Public Theater and Greenwich House Theater. #UNWANTED premiered to the world at THE SHED in NYC among the inaugural Open Call commissions. In Summer of 2019 Tariq made his LA Philharmonic debut in the cast of Meredith Monk's, ATLAS under the direction of Yuval Sharon. He is currently collaborating with Monk on her new evening-length performance, Indra's Net. www.tariqalsabir.com

Mamafunk & Her Funkrocksters will be celebrating the USPS & Voters Rights! So far in 2020 it was not 'business as usual': there was a virtual Easter Bunny, Mother's Day, Father's Day, 4th of July and Labor Day. And we're looking at virtual Thanksgiving, Christmas, and a 'TBD' for New Year's Eve! But neither snow nor rain nor heat nor gloom of night stays these couriers from the swift completion of their appointed rounds. The USPS delivered and Voters cast their votes! Log on, watch MamaFunk and Her Funkrocksters celebrate the USPS & Voters Rights!

Nona Hendryx, a celebrated vocalist, record producer, songwriter, musician, and author, was an original member of the trio Labelle, whose smash single "Lady Marmalade" is a timeless classic. Her solo singles "Transformation," "I Sweat," "Rock This House," and "Winds of Change" from the 80s and 90's are as well-known as her work as a guest vocalist with legendary acts including Bernie Worrell (Parliament-Funkadelic), Talking Heads, and Peter Gabriel.

National YoungArts Foundation
National YoungArts Foundation (YoungArts) was established in 1981 by Lin and Ted Arison. YoungArts identifies the most accomplished young artists in the visual, literary and performing arts, and provides them with creative and professional development opportunities throughout their careers. Entrance into this prestigious organization starts with a highly competitive application process for talented artists ages 15–18, or grades 10–12, in the United States, that is judged by esteemed discipline-specific panels of artists through a rigorous blind adjudication process. All YoungArts award winners receive financial awards and the chance to learn from notable artists such as Debbie Allen, Mikhail Baryshnikov, Frank Gehry, Wynton Marsalis, Salman Rushdie and Mickalene Thomas as well as past YoungArts award winners such as Daniel Arsham, Terence Blanchard, Camille A. Brown, Viola Davis, Allegra Goodman, Josh Groban, Judith Hill, Tarell Alvin McCraney, Andrew Rannells, Desmond Richardson and Hunter Schafer.

Like all Joe's Pub shows, all ages are welcome, but please be aware that performances may include adult language and topics.

CALENDAR.
No available performances in this month.
Musicians.