Piehole:
Disclaimer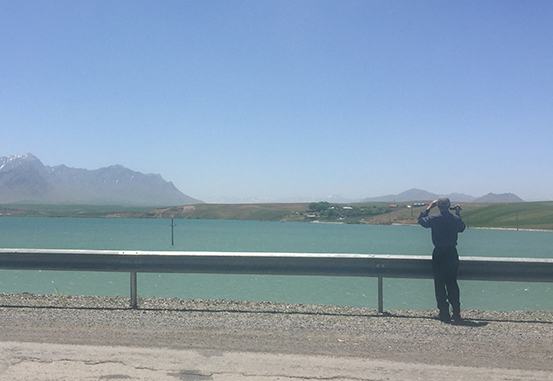 Shiva
January 11 - January 17, 2020
Run Time: 1 hour and 15 minutes
DISCLAIMER
Written by Tara Ahmadinejad
Created by Piehole
Directed by Jeff Wood and Tara Ahmadinejad
Lighting Design: Reza Behjat
Associate Lighting Design: Paige Seber
Scenic Design: Alexandra Panzer
Video Design: Jeff Wood
Sound Design: Ben Vigus
Collaborating Artist: Layla Khoshnoudi
Hosted by Tara Ahmadinejad, with Ali Sohaili
Production Stage Manager: Katherine Shelton
Assistant Stage Manager: Eli Schleicher
Technical Director: Ross Cowan
Line Producer: Ryan Gedrich
Piehole Members: Tara Ahmadinejad, Alexandra Panzer, Emilie Soffe, Ben Vigus, Jeff Wood
Disclaimer: This play contains propaganda, vague promises of Persian food, and minimally invasive audience participation.
You're invited to a consequential gathering at Nargis's house; dinner will be ready in a bit. Collaborative collective Piehole invites us to fix our relationship with Iran while surrendering to an Agatha Christie-esque murder mystery. DISCLAIMER probes identity, fear, and the stakes of cultural (mis)representation.
CALENDAR.
Pricing
Tickets start at $25, plus fees
Public Supporter tickets start at $20
Press.
...moments of unexpected beauty and others of gratifying weirdness.
does its part to create community right where it is.
the most unique theatrical experience you are likely to have this week.