600 HIGHWAYMEN (U.S.):
A THOUSAND WAYS (PART ONE): A PHONE CALL
December 21, 2020-January 17, 2021
A THOUSAND WAYS (PART ONE): A PHONE CALL
By 600 HIGHWAYMEN (U.S.)
Written and created by Abigail Browde and Michael Silverstone
Executive Producer: Thomas O. Kriegsmann / ArKtype

Pick up the phone. Someone is on the line. You don't know their name, and you still won't when the hour is over, but through this exchange – as you follow a thread of automated prompts – a portrait of your partner will emerge through fleeting moments of exposure. A THOUSAND WAYS "takes a simple premise and turns it into magic" (The New Yorker).

A THOUSAND WAYS (PART ONE): A PHONE CALL is the first of an eventual three-part series by Obie Award-winning theatermakers 600 HIGHWAYMEN, known for exhilarating performances that challenge the very definition of theater.

Taking place around the world, A THOUSAND WAYS explores the line between strangeness and kinship, distance and proximity, and how the most intimate assembly can become profoundly radical.
PRODUCTION DETAILS.
This experience is for you and another audience member. It cannot take place without your presence.

How does it work?
Twenty-four hours before, we will send you a phone number to call at your scheduled event time. Another audience member will do the same. You will be met by a voice that will guide the two of you.

Can I participate in this performance with another member of my household?
Tickets are for one person only. Members of the same household must have their own ticket and separate devices to join the event.

Where should I call from?
Your current place of residence, in a quiet indoor space with a strong telephone signal.

What kind of phone do I need?
Any phone will work! All that matters is that it's charged, cordless, and ready to go.

Can I use headphones to take the call?
Headphone, yes. Speakerphone, no.

I'm calling from another country, what should I do?
Our staff will assist you in obtaining a local number. In addition, all calls are scheduled in Eastern Standard Time.

What else do I need to know?
Due to the intimate nature of this experience, we cannot accommodate late arrivals.
Running Time: 1 hour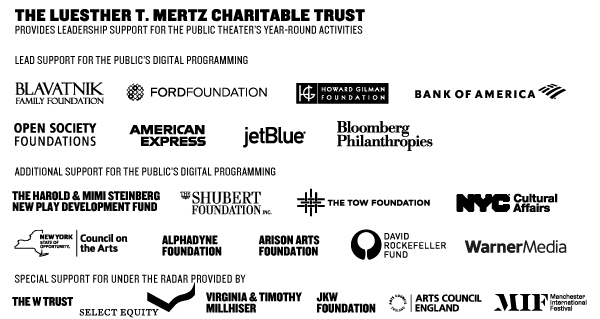 CALENDAR.
Free For All
The Public Theater strives to make its performances, digital content, and facilities accessible to all patrons and visitors. For additional information or if you have questions, need assistance, or accommodation, please contact us at [email protected].

All performances will be held in Eastern Standard Time.
No available performances in this month.
No available performances in this month.
Credits.
Abigail Browde & Michael Silverstone
Writers & Creators
Thomas O. Kriegsmann / ArKtype
Executive Producer
Cynthia J. Tong
Line Producer
Andrew Kircher
Dramaturg & Project Design
Stanley Mathabane
PART ONE: A PHONE CALL Sound Design
Teri-Ann Carryl, Clare Hatlo, Christopher Maxwell, Kelindah Bee Schuster, Plato Seto
Production Team