FREE SHAKESPEARE IN THE PARK
YOUR 61ST FREE SHAKESPEARE IN THE PARK SEASON.
We are excited to announce that the 61st Free Shakespeare in the Park season will feature the classic drama HAMLET, directed by Tony Award winner Kenny Leon and featuring Tony Award nominee Ato Blankson-Wood (Slave Play, Public Works' As You Like It) in the title role. HAMLET will have an extended run of nine weeks, beginning at The Delacorte Theater on Thursday, June 8, and running through Sunday, August 6.

Read The New York Times article.
SHOWS.
HAMLET
Directed by Kenny Leon
Featuring Ato Blankson-Wood as Hamlet

June 8 – August 6, 2023
Returning once again to Free Shakespeare in the Park, director Kenny Leon commands The Delacorte stage with a nine-week, tour-de-force production of the Bard's masterpiece, HAMLET, a riveting, contemporary present-day take on Shakespeare's classic tale of family and betrayal, as enduring as the stars above Central Park.

"Hamlet is arguably the greatest play in the Western canon, and I am thrilled that Kenny Leon will be helming this summer's production. As he demonstrated with his brilliant production of Much Ado About Nothing, Kenny has an expert way of making Shakespeare come alive in a contemporary American context, illuminating these great works while also reimagining them for our times and our country," said Public Theater Artistic Director Oskar Eustis. "Hamlet will be a beautiful salute to the city as we head into a season where we will be renewing and renovating our beautiful home, The Delacorte Theater."

"I'm so happy to be at The Delacorte once again and to share something that binds us to one another," said director Kenny Leon. "A 400-year-old play exploring the need for a strong foundation of family, with music and words, Shakespeare's Hamlet has much to say about humanity and the importance of our connectedness to each other. We set this production in 2021, filled with all of the challenges we face as Americans as we explore our need to love more profoundly both nature and its people."
THE TEMPEST
Music & Lyrics by Benjamin Velez
Choreography by Tiffany Rea-Fisher
Directed by Laurie Woolery

August 27 – September 3, 2023


As we continue to rebuild out of the pandemic, Public Works enters its second decade by revisiting the play that launched the program, William Shakespeare's THE TEMPEST. In The Public's decade-long tradition of bringing together a diverse ensemble of both professional and community members from across New York, this Public Works production examines what it means to be isolated and how we find our way back to one another. With music and lyrics by Benjamin Velez and directed by Obie Award winner and Director of Public Works Laurie Woolery, this ambitious work of participatory theater explores the grief of being cut off from community, the desire for retribution, and the healing power of love.

Forced from their home, Prospero and her daughter Miranda have survived for 12 years among the ruins of an abandoned island. As Prospero grows closer to getting the justice she desires, she witnesses her daughter fall in love, listens to the wisdom of spirit ancestors, and discovers that sometimes forgiveness is the only way to break cycles and right the course for the next generation. Hilarious fools, magical spells, and ancestral spirits dance through this production as we all come together to celebrate what it means to be human.
MAKE A GIFT & RESERVE A SEAT.
Want to reserve your seat to New York's favorite summer tradition? Become a Supporter Plus with a gift of $300 or more, and you'll have access to reserved seating at The Delacorte Theater in Central Park. You'll also be contributing to a 61-year legacy of providing millions of free tickets to New Yorkers.

Public Theater Supporter and Partner tickets are now available to reserve.

*Please note, reserved seating for a donation is limited in order to continue to keep the majority of tickets to Free Shakespeare in the Park accessible to all.
FREE TICKET DISTRIBUTIONS.
We are excited to offer all in-person distributions for free tickets this summer, as well as the return of TodayTix as our official digital lottery partner for Free Shakespeare in the Park.

*Borough Distributions will only be available for HAMLET.
SUPPORT.
Make a gift today to celebrate Free Shakespeare in the Park and sustain New York's favorite tradition.
REVITALIZING THE DELACORTE THEATER.
Sponsors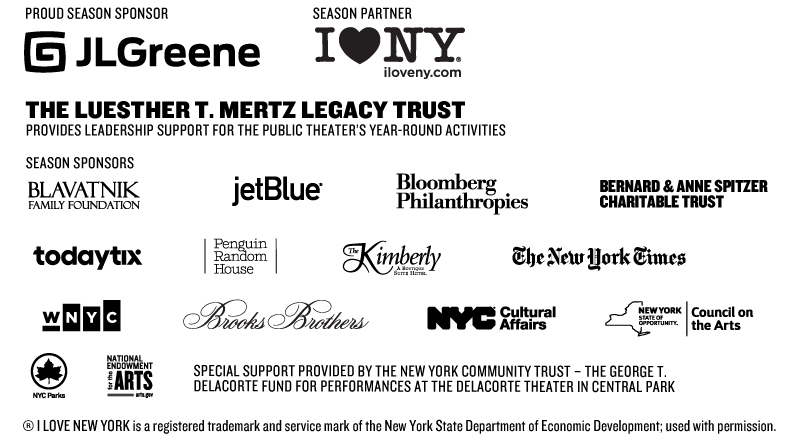 Pictured Above: The company of the Free Shakespeare in the Park production of MUCH ADO ABOUT NOTHING. Photo by Joan Marcus.